The missing piece in the region's startup ecosystem
We at Modus Capital have been operating in MENA for roughly four years now, and over that time have learned a great deal about the region, the entrepreneurial ecosystem, and the support mechanisms in place to help entrepreneurs.
Prior to Modus's existence, much of our management team has been based in the US and on the building and operating side of the table versus the traditional finance/consulting routes most VC's take (including co-founding a recent unicorn and exiting several other companies).
As a result, we have touted ourselves as international operators, and we are. But in the interest of transparency, we have struggled to formulate exactly how to harness that know-how and translate it into the most effective way to support and grow startups in the MENA region while protecting LP investment and meeting returns expectations.
Our learnings, ideation, and experimentation have culminated into Ventures Lab – Modus' second Venture Builder model that we have recently launched in the UAE in collaboration with Hub71.
In this post, I will dive into why exactly we are launching a network of venture builders throughout MENA. To understand the why, we must first understand the current state of the entrepreneurial ecosystem and its history. Then I will discuss how the builder ties into the ecosystem and why it's important to have a supporting VC fund on the back end of the builder.
A maturing MENA
We saw a record-breaking $1B in funding deployed to MENA-based startups last year, marking a 13% increase y-o-y. While the number is skewed by several large funding rounds in the first half of the year, it was encouraging to see continued activity throughout 2020 (thanks to MAGNiTT for compiling great data on MENA).
The growth in MENA funding has been exponential since 2011 with the number of active VCs growing from 30 to over 150 (McKinsey), and a total funding CAGR of 26% since 2016.
Massive progress and growth aside, the MENA entrepreneurial ecosystem remains in the early stages of its evolution.
While we have seen great success in a select few companies, the region lacks founders and investors that have experienced the entire lifecycle of a company, from ideation to exit. In our opinion, this should be neither a problem nor a deterrent, just a simple fact.
The same fact that was faced by the early pioneers in Silicon Valley. As the ecosystem matures, it will both attract experienced investors from abroad, as well as develop both founders and investors from within.
Governments have helped facilitate this learning curve by incentivizing international investors and accelerators to come to the region and both participate in the growth and help with knowledge transfer.
The missing piece
However, with growth, come roadblocks. Currently, there is a gap in multi-faceted support offered to entrepreneurs and SMEs at the various stages of company growth.
Although current incubators and accelerators provide relevant guidance, the support is only temporary, and is just one piece of the puzzle.
Furthermore, when entrepreneurs complete these programs, they graduate into an ecosystem that lacks individuals and entities who have experienced an entire or partial company cycle – from ideation to exit – and can continuously support them with the domain expertise needed.
Startups need the follow-on support to guide them through continued growth and iteration cycles, because once they hit stagnating metrics, investors get spooked, want to wait it out for more security, and funding dries up.
Seeing this pattern repeat itself was the primary driver behind us launching regionally specific Venture Builders across MENA.
What is a Venture Builder?
To quickly define a venture builder: it is a more hands-on and tailored approach compared to the traditional accelerator.
Accepted companies typically will get a dedicated team with both financial and human capital support. As a result of the heavy touch and deep resources, builders work with fewer companies in a year compared to accelerators.
Venture builders are not for all founders, they are ideal for first-time entrepreneurs ranging from recent college grads with an idea, to lifelong corporate professionals that have identified a problem and have set out to solve it.
Our newest builder, Ventures Lab, was launched in collaboration with Hub71 to help founders test and validate ideas and concepts, build Minimum Viable Products (MVPs) and take products to market.
Our team of entrepreneurs and operators partner with participating founders to provide tailored hand-in-hand venture building support, strategic business planning, fundraising preparedness, and product growth management aligned to their business objectives throughout the entire lifecycle of the startup.
In addition to the operational and financial support, the collaboration enables companies to gain market access and entry into Hub71's vibrant community. Because builders are typically not a one-size-fits-all model, the ask from companies varies based on the services provided.
A multi-faceted approach
As discussed, we're launching a network of Venture Builders across the region, but you may also be wondering, why do you then have a VC Fund alongside them?
The answer is simple, the builder turns into the ideal pipeline for seed and series A+ investing. Not only does the fund give builder graduates a streamlined way of raising funds, it gives the fund team a vetted pipeline of companies that we know are built with proven frameworks and methodologies.
While there are several governance measures in place and not all graduates are guaranteed to receive funding, it's an important element to offer startups.
It enables them to continue to focus on growth and building their companies without facing delays due to the slow fundraising process most startups encounter. The fund will also invest in non-builder companies, but it enables us to own more of the "supply chain".
Ultimately, we are venture investors, and our success is pegged to the long term success of our venture builder companies. That being said, we are firm believers in the tools, methodologies, and frameworks that we teach and implement in all the companies we work with.
We've always been told that '90% of startups fail in the first three years of operation', and while most startups may not make it past the three-year mark, our goal is to change the mantra that the majority will not make it.
The entrepreneurs that come through our program that do end up with a shuttered company, will exit well-equipped for their next venture, and this will only elevate the MENA ecosystem as a whole in the long run.
More Resources
VCs vs Angel Investors; How to Raise Capital for your Venture? – Modus Podcast // Ep. 2
A Startup's Key to Success: The Process of Testing and Iterating
Summary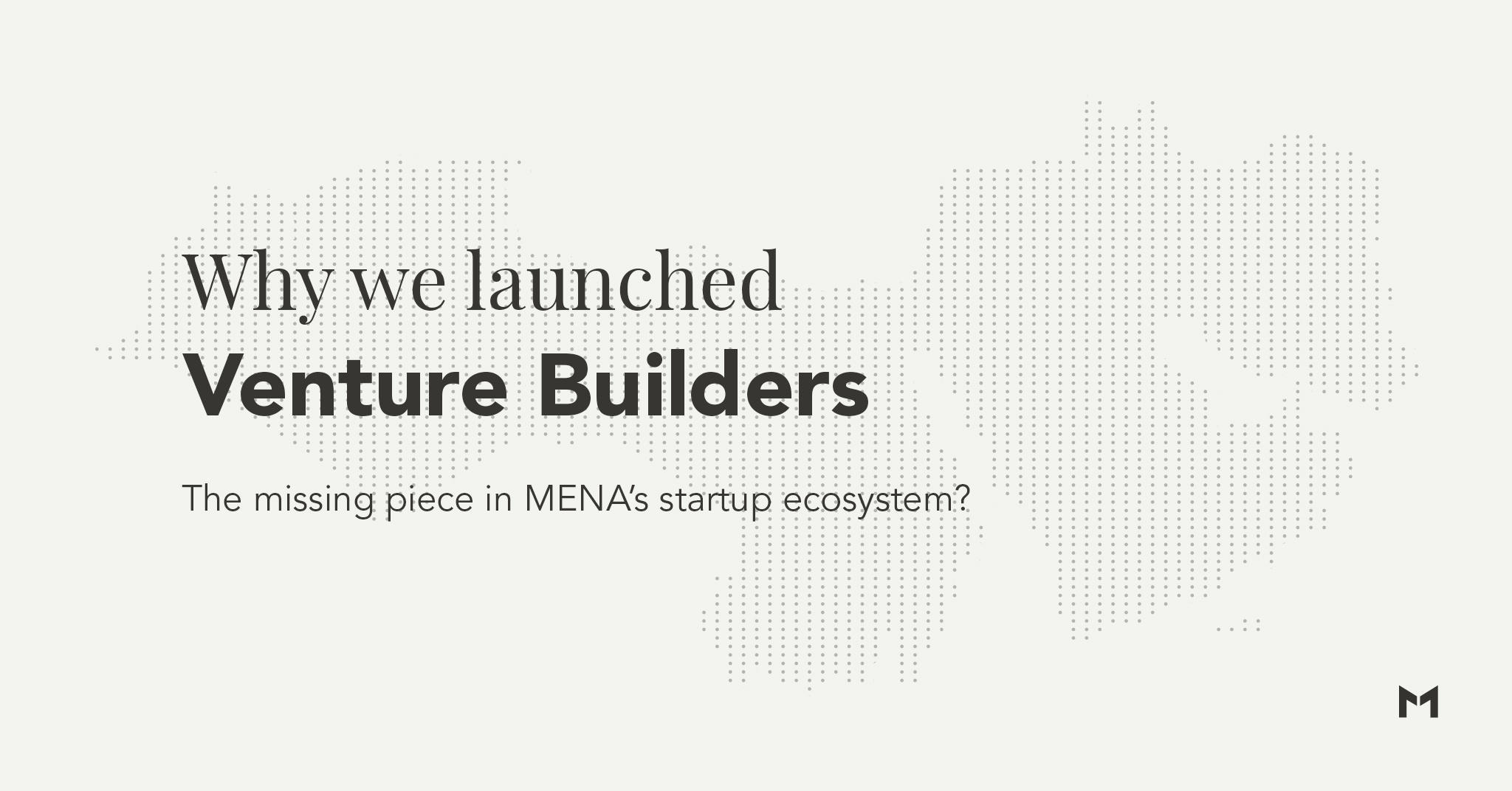 Article Name
Why we launched venture builders in MENA
Description
Simon Tkachenko shares the motivating reasons for Modus' venture builders in MENA and how the company has filled the missing gaps within the region.
Author
Publisher Name
Publisher Logo